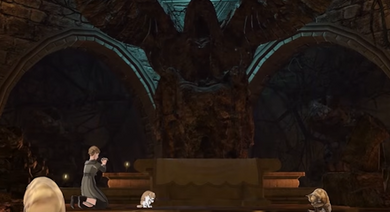 Fate of the Old Gods is a canon side story that began on March 30th, 2020, and ended on ___.
It takes place several years after The Goddess, detailing the rebellion of the Secularists against the Emerald Empire. It can be found here.
Characters
Alice Swayne
Atlantiades
Billy Batson
Doom Slayer
Gill
HABIT
Henry Hart
Hidan
Jeffrey Koval
Karinith Elsinorin
Maol-Chaluim
Mila
Rei Amayado
The God-Emperor of Mankind
Valkyrie
Valla
Other Characters
An'Lu'Munus
Ares
Ashe Ubert
Atreus
Azura
Balthus von Albrecht
Barbara Minerva
Beauregard Lionette
Belmod
Big Boss
Big Mother
Bizzaro
Black Adam
Blackheart
Booster Gold
Cain Marko
Caleb Widogast
Camilla
Cammy White
Cassandra Rubens Charon
Crimson Viper
C.O.R.I.
Damian Wayne
Decapre
Diana Prince
Dick Grayson
Dru-Zod
Dwyer
D'Vorah
Eli White
Elizabeth Sherman
Elise
Eobard Throne
Eponine
Falke
Ferdinand von Aegir
George Sears
Gohan
Goku Black
Graf Toren
Gunter
Guy Gardner
Hal Jordan
Hank McCoy
Iago
Illyana Rasputina
Izana
Jakurai Jinguji
James
James Frost
Jane Foster
Jester Lavorre
John Kaluu
Johnny Gat
Kaine Parker
Kale
Kana
Kara Zor-El
Katara
Kolin
Leo
Madison Palmer
Major Bison
Mercedes von Martritz
Metodey
Millie Coulro
Nathan Summers
Niles
No-Name
Noembelu
Owain
Peter Parker
Pierce
Pikkon
Poseidon
Ricardo Valenciano Libre
Rocket Racoon
Roman Halliday
Sagat
Saint Walker
Seiros
Seteth
Shan Chìhóng
Shan Yu
Silque
Slade Wilson
Sodam Yat
Soranik Natu
Strider Hiryu
The Emerald Racer
Toppo
Urien
Veranke
Wallace West
Wally West
Willow
Xander
Yuri Leclerc
Zamasu
Zero
Teams
In Chapter Three of this event, players were divided into teams similar to those of Champions of the Arena.
Red Team - Gill, HABIT, Mila, Urien
Orange Team - Barbara Minerva, Belmod, Damian Wayne, James Frost
Yellow Team - Crimson Viper, Hank McCoy, Strider Hiryu, Zero
Green Team - Atlantiades, Atreus, Billy Batson, Karinith Elsinorin
Chartreuse Team - Bizarro, Decapre, Dick Grayson, Illyana Rasputina
Blue Team - Cain Marko, Dru-Zod, Eobard Thorne, Jon Kent
Purple Team - Booster Gold, Cammy White, D'Vorah, Kaine Parker
Black Team - Black Adam, Nathan Summers, Rocket Raccoon, Sagat
Following the countdown reaching zero, the teams were reorganized
Red Team - Gill, John Kaluu, Mila, Urien
Orange Team - Belmod, Damian Wayne, Diana Prince, James Frost
Yellow Team - Crimson Viper
Green Team - Elizabeth Sherman, Jane Foster, Ricardo Valenciano Libre, Roy Harper
Chartreuse Team - Bizarro, Decapre, Dick Grayson, Maol-Chaluim
Blue Team - Dru-Zod, Sodam Yat, Wally West
Purple Team - Noembelu, Peter Parker, Slade Wilson
Black Team - Sagat
Story Details
Trivia
This is the second installment in the Emerald Saga, the first being The Goddess.
This event is similar to Fighting of the Spirit in which a pair was mandatory to sign up. It also bears similarities to Of Ice and Ruin in which there are two plotlines running at the same time.
Chapter Three's structure purposely resembles the structure of Champions of the Arena.