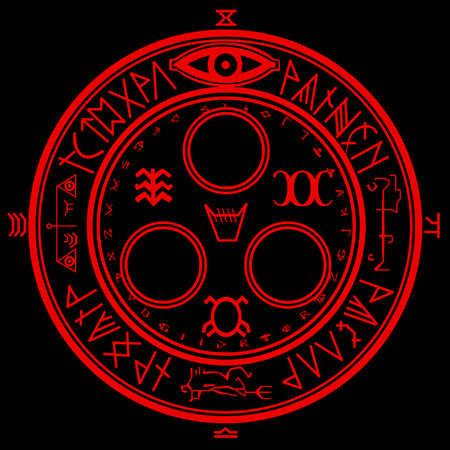 The Murder Games are a phenomenon originally orchestrated by both the Arch Demon and Albert Wesker, based upon ancient versions of similar games from when the multiverse was still young. They initially acted as the primary canon entries in the series, starting with Genesis. Since then, the term Murder Game has been used in-universe to describe a number of events orchestrated by an array of villains.
Diablo, once the leader of the Great Evils that ruled the Burning Hell, amassed enough power to escape his domain, though found his power limited once he was free.
After losing much of his power, Diablo was forced to enter into a partnership with Albert Wesker. The pair schemed up a plan to gather a powerful item from another universe called the Tesseract.
As part of their plan, Diablo enacted a process based upon ancient demonic games called Murder Games. This process involved beings forced into a game of life or death, their anguish, stress, and negative emotions creating a power known as Malevolence, which beings from the Dark Place like Diablo could absorb as raw power.
After Diablo was betrayed by Wesker, the man tried to carry out his own Murder Game, but found he could not make use of Malevolence in the same manner that Diablo could, resulting in failure. Diablo eventually returned, his memory damaged to the point he believed he was a new being known as Akibahara. Wesker joined forces with the demon once again and began to carry out a series of new Murder Games.
The original Murder Games as orchestrated by Diablo and Wesker followed a specific formula. Beings from across the multiverse would be gathered in to one place and forced through a series of life or death situations. A number of them would picked out as Traitors and tasked with killing off the survivors. Survivors would often vote amongst themselves who they believed to be the Traitors, sometimes either being forced to do this or simply choosing to do so. The resurrection of the dead, either by magic, cloning, or illusionary means, would be implemented to perpetuate a cycle of death.
Others have sought to copy the Murder Game's original formula even after Diablo and Wesker's demise, whether they also aimed to harness the power of negative emotions or simply did so for sadistic reasons. These include Elliot, Revan, Ghirahim, Aku, Fiamma of the Right, and Bill Cipher. Organizations such as the Coalition and the United Nations have since used the term Murder Game to refer to many events where beings are brought across the multiverse and forced through deadly situations, whether these events follow a formula or not. These events are often recorded as "incidents," but they are sometimes also referred to as "games of survival," "games of death," and "killing games."
Due to the unstable nature of malevolence and the lack of beings with the massive power that Diablo had, beings copying the original ancient formula have waned. Since the organization known as ODMA was conceived, the term "Murder Game" has become out of style. In recent times, it is often only used to refer to the previous incidents orchestrated by Diablo and those who sought to follow in his footsteps. A "true" Murder Game has not been seen since the Gravity Falls Incident and the Emnity Incident.
There are many different roles that people can find themselves acting as, depending on the Murder Game in question. The following are special cases that aren't standard to each event. This list is subject to change as the Murder Games go on.
Murder Games
Edit
The following is a list of events considered Murder Games in-universe or otherwise have had assigned roles:
Some side stories are referred to as Murder Games as well.
Community content is available under
CC-BY-SA
unless otherwise noted.